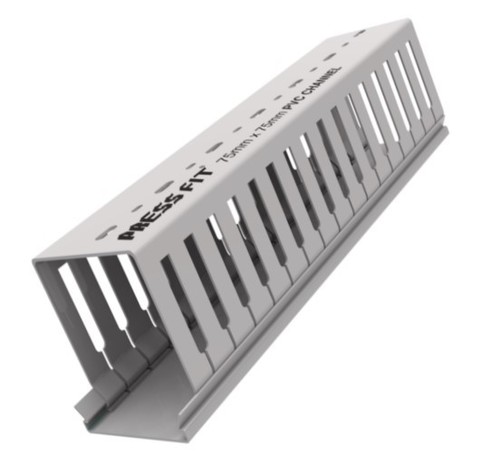 Pressfit Slotted Panel PVC Wiring Duct
Price And Quantity
Product Specifications
PVC Panel Trunking

Electrical Wiring and Fitting Application
60 x 40 mm (Other Sizes Available) Millimeter (mm)
Product Description
Pressfit Slotted Panel PVC Wiring Duct
The offered Pressfit Slotted Panel PVC Wiring Duct is also called PVC panel trunking that is generally used to conceal the lose wires of industrial or commercial appliances and equipment. It comes in a 60x40 MM dimensions in terms of length, width, and height. We can also customize this wiring duct in distinctive sizes, depending on the special requirements of our customers.

It is outlined in a grey plastic body that is made from pure PVC compounds. This Pressfit Slotted Panel PVC Wiring Duct additionally have vertical slots for users to pass wires or cables through them. In addition, it has an adjustable body so that the customers can effortlessly integrate and bind all their lose wires or cables at a secure place and that too in an organized manner. The bottom of our wiring duct is leveled so that the wires can be aligned or organized in a level.

Applications: Ideal for use when bundles, cables, and wires need supporting in control panels, distribution boards, and switchgear. Ideal for all panel building applications.
Specifications:
Color: Grey
Size: 30 x 25 mm
Product Type: Panel Trunking
Tray Type: Slotted
Material: PVC